Information about Hessen
Hessen is a state in the heart of Germany with just more than six million inhabitants. Situated in west-central Germany, Hessen is surrounded by six other states. There is no border to any other country. The landscape of Hessen is dominated by densely forested upland mountain ranges like the Rhön or the Westerwald that are popular with tourists and for local recreation of residents.
The Brothers Grimm made Hessen famous for its castles and forests, and the Rheingau has always been renowned for its wines. But Hessen's real claim to fame is Germany's most international and energetic city: Frankfurt am Main has Germany's tallest buildings and highest GDP, and as continental Europe's financial capital - home to Germany's stock exchange, the Bundesbank, and the European Central Bank - it has earned nicknames such as ''Mainhatten'' and ''Bankfurt''.
Frankfurt also draws countless international companies who want to be close to Europe' center of action. Moreover, it attracts an amazing 20 percent of Germany's overall foreign direct investment to Hessen. The city also hosts a number of major international trade fairs, featuring everything from consumer goods and books to automobiles. Likewise, its central location in Germany makes it a hub for road and rail traffic, and its international airport sees more travelers than any other airport in the country.
Although almost three out of four companies in Hessen fall into the service industries, there is also much manufacturing in the sectors of machine building, electronic engineering, chemicals, pharmaceuticals, and automotive. The region is also famous for its cultural offerings, such as Darmstadt' Art Nouveau buildings or Kassel's ''documenta'', the world's most important modern and contemporary art exhibition.
Business Related Sites in Hessen
Foreign entrepreneurs will find many state level institutions that offer helpful support for business operations.
The State of Hessen
The official website of the State of Hessen is a first source of information on local matters.
Hessen Trade & Invest
The Hessen Trade & Invest GmbH is the economic development company for the federal state. The agency supports all companies that want to expand their business activities in Hessen and worldwide, particularly small and medium-sized businesses.
http://www.invest-in-hessen.com/
Invest in Hessen
The business portal Invest in Hessen delivers comprehensive and useful information that businesses need to consider before making investment decisions.
http://www.invest-in-hessen.de
Hessen-Finder (German only)
The Hessen-Finder is provided by the federal state of Hessen in cooperation with the local authorities. It offers information about public services, administrative procedures, and guides to the competent authorities.
http:/verwaltungsportal.hessen.de
Existenzgründung Hessen (German only)
The startup portal of the state government offers a guide to a successful start to self-employment.
http://www.existenzgruendung-hessen.de
Wirtschafts- und Infrastrukturbank Hessen 
The Wirtschafts- und Infrastrukturbank Hessen (WIBank) in Offenbach a.M. is the central institute for monetary economic development in the state of Hessen.
Hessen Tourism
Online travel guide of the Hessen Agentur GmbH.
Point of Single Contact in Hessen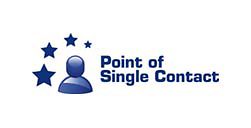 Picture shows Points of Single Contact
© BMWi
Service businesses from EU Member States seeking for support with the German administrative procedures may address the local Points of Single Contact. These state run one-stop-shops will guide them through the necessary paper work.
The Point of Single Contact in Hessen is the central internet platform for all entrepreneurs, freelancers, and other self-employed individuals that want to establish or change their business in Hessen in a fast, simple, and uncomplicated manner.
The service of the Points of Single Contact is optional. Entrepreneurs may always contact the relevant authorities directly, if they prefer. Moreover, there are many institutions at the state level that may be addressed for further support.